Industry news
2019 report card of national port throughput
Date:2020-01-21  Source:TEDA WATERWAY SHIPPING SERVICE CO., LTD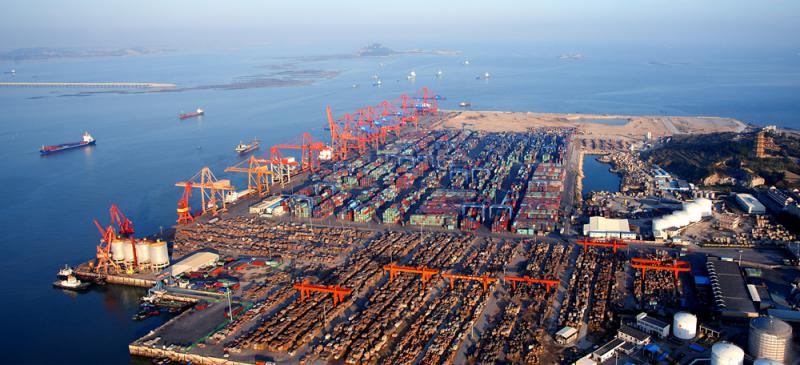 The year 2019 has come to an end. As the second decade of the 21st century comes to a successful end, how is the throughput performance of Chinese ports?Recently, the ministry of transport announced in December port cargo, container throughput.In 2019, Chinese ports handled 13.95083 million tons of cargo, up 8.8 percent year on year.The throughput of foreign trade cargo was 4320.69 million tons, up 4.8% year-on-year, and container throughput was 261.07 million TEU, up 4.4% year-on-year.

2019 national port cargo throughput ranking 1-20 are: ningbo zhoushan port (1), (2) in Shanghai port, tangshan port (3) (4), guangzhou port, Qingdao port (5), suzhou port (6) (7), tianjin port, rizhao port (8) and port (9) (10), dalian port, nantong port, zhenjiang port (11) (12), oil drilling (13), taizhou port (14), shenzhen (15), nanjing (16), the beibu gulf port (17), port of yinkou (18), lianyungang port (19) (20), jiangyin port.

Compared with last year, the national cargo throughput ranking 1-7 remains the same, the eighth of dalian port by last year fell to eighth, port of yinkou seven losses from 11th to 18th, rizhao port, beyond the dalian port to eighth place,, the biggest increase in zhenjiang port from 26 to 12th, lianyungang port, jiangyin port is successful in the top 20 rankings.

In 2019, the container throughput of ports in China ranks 1-20 as follows:(1) in Shanghai port, ningbo zhoushan port (2), shenzhen (3) (4), guangzhou port, Qingdao port, tianjin port (6), (5), xiamen (7), (8) (9), suzhou port of dalian port, the port of yinkou (10), lianyungang port, rizhao port (11) (12), foshan port (13), the beibu gulf port (14), dongguan port (15), fuzhou port (16), nanjing (17), port (18), tangshan port (19), quanzhou port (20).

In 2019, the container throughput ranking of ports in China will remain unchanged compared with last year. Suzhou port and yingkou port will swap places, with suzhou port rising one place to 9th and yingkou port ranking 10th.Beibu gulf port has risen sharply in the rankings, from 19th last year to 14th.

From the perspective of different ports, Shanghai port has been the largest container port in the world for ten consecutive years, with a total container throughput of 43.31 million TEU in 2019, a year-on-year increase of 3.1%.Combined with the inland river cargo throughput of Shanghai, the cargo throughput of Shanghai port in 2019 reached 718.77 million tons, which is basically the same as last year.In the monthly data of 2019, the cargo throughput of Shanghai port continued to decline slightly, which may be related to environmental protection policies and cargo structure adjustment.

Zhoushan port of ningbo still holds the position of the largest port in terms of cargo throughput, and achieved a growth rate of 7.9% in mid-2019, achieving a total cargo throughput of 119.09 million tons.In addition, the container throughput of zhoushan port in ningbo also broke through 27 million boxes in 2019, with the final annual container throughput of 27.53 million TEU, up 4.5% year on year, making it the second largest container throughput in China and the "top three" container ports in the world.

The cargo throughput and container throughput of guangzhou port both ranked 4th in China. Its cargo throughput in 2019 reached 606.16 million tons, with a year-on-year increase of 12.6%.Container throughput reached 22.83 million TEU, up 5.7% year on year.According to the data released by guangzhou port authority on December 26, it is expected that the container volume at guangzhou port will exceed 23 million teu in 2019, as the ministry of transport USES express data, which is six hours less than the actual throughput.Guangzhou port's 2019 report card is stable, but the pressure it faces cannot be underestimated.In terms of the ranking, Qingdao port, which ranks fifth in container throughput, is making a sudden and fierce pursuit of guangzhou port. The annual container throughput of the two ports differs by 1.82 million TEU in 2019, while the difference between the two ports is only 760,000 TEU from January to July.In September 2019, the signing ceremony of the procurement project of automatic loading and unloading system of guangzhou nansha port phase iv project was held. As the first fully automated terminal in the guangdong-hong kong-macao greater bay area, the future container throughput of guangzhou port still has room for further development with the customized "guangzhou scheme".

Suzhou port experienced a small year-on-year decline in both cargo and container throughput, but its cargo throughput ranking did not decline and container throughput rose one place.In May 2019, on the second anniversary of the integration of suzhou port group, its total profit in the january-april period reached 21.9 million yuan, up 152% year on year, achieving a comprehensive turnround.In 2019, jiangsu port group plans to complete the cargo throughput of 420 million tons. Overall, the integration dividend brought by the integration still needs to be released.

Yingkou port ranked lower in both cargo throughput and container throughput, with the annual container throughput of 5.48 million TEU, down 15.6% year on year, and the cargo throughput of 238.18 million tons, down 35.6% year on year.In 2019, liaoning port group was listed and established. After the introduction of China merchants group, a professional port operator, as the "strategist", liaoning port group made overall layout in terms of route planning, operation and management, but the throughput of dalian port and yingkou port still failed to stop the decline effectively.At present, the integration mode of liao port group is also gradually being adjusted and upgraded. In the future, the further development of dalian port and yingkou port needs to be planned in various aspects.

The port circle believes that Chinese ports as a whole have maintained stable growth in the face of the global economic downturn and global economic environment fluctuations in 2019.According to different regions, the port in the south is growing faster, while the port in the north is decreasing.Going forward, the challenges facing China's ports remain focused on two main areas: internationally, regional political disputes will continue to have an unpredictable impact on the global economy;Further deepening of domestic port integration, free trade port and other policies will directly bring profound changes to the port industry.